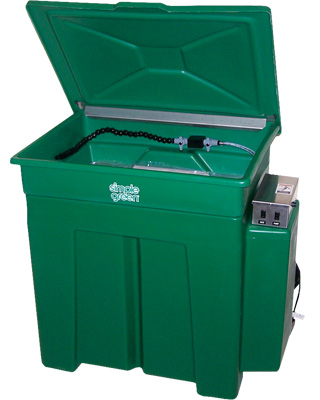 Simple Green® 60 Gallon Parts Washer
The Simple Green 60 Gallon Parts Washer saves time and effort when cleaning and degreasing industrial parts. The sturdy washer is made of heavy-duty industrial grade polyethylene plastic with a stainless steel work shelf. It has a load capacity of 200 lb and delivers an optimal fixed thermostat temperature of 105°F. The Flexible Loc-Line® nozzle with polyester filament flow-through brush allows easy cleaning without damaging delicate parts. The unit is GFCI protected and comes with separate power switches for the heater and pump.
Heavy-duty polyethylene
45-60 gallon capacity
Flexible Loc-Line® nozzle
Resources
Distributors
Contact Us
Ingredients
For a list of ingredients, please see our Ingredient Disclosure page.
WARRANTY PROVISIONS: Purchaser's sole and exclusive remedies for breach on any warranty concerning this product shall be replacement of the product, or, at the option of the manufacturer, refund of the purchase price, upon return of the unused portion of the product, together with proof of purchase. Manufacturer shall not be liable for any consequential or other damage resulting from product use.