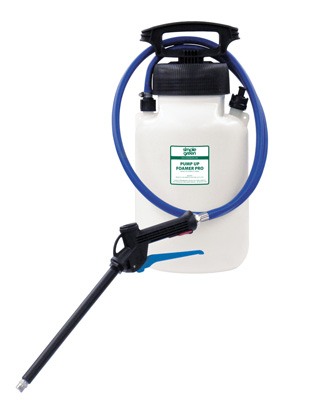 Simple Green® 1. 5 Gallon Pump Up Foamer Pro
The Simple Green Pump-Up Foamer Pro is a portable foam applicator that combines the many advantages of foam cleaning with the familiar ease and portability of a typical pump-up sprayer. This professional model creates rich, clinging foam that adheres to surfaces longer, maximizing chemical effectiveness and reducing over-application. It features a heavy-duty, easy-grip trigger gun with 10" extension wand, 6' hose, a wide pattern stainless steel fan nozzle, and a locking latch for fast and precise application. Viton/Nitrile internal seals and o-rings provide resistance to acidic chemicals and the 1.5 U.S. gallon HDPE tank with UV inhibitor can withstand chemical temperatures up to 120°F. The durable manual pump can create up to 45 PSI, making it ideal for small or large jobs that require maximum portability.
Portable foam applicator
Heavy-duty build
Easy-grip trigger gun
Resources
Distributors
Contact Us
Ingredients
For a list of ingredients, please see our Ingredient Disclosure page.
WARRANTY PROVISIONS: Purchaser's sole and exclusive remedies for breach on any warranty concerning this product shall be replacement of the product, or, at the option of the manufacturer, refund of the purchase price, upon return of the unused portion of the product, together with proof of purchase. Manufacturer shall not be liable for any consequential or other damage resulting from product use.