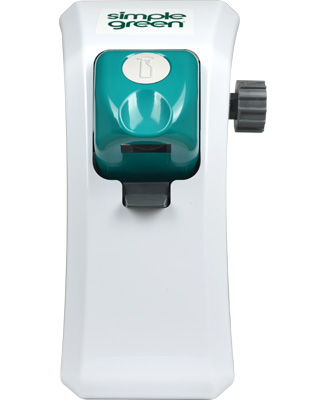 Simple Green® Single Product Low Flow Proportioner
Simple Green Single Product, Low Flow Proportioner provides accurate and easy product dilution, ensuring concentrated cleaning products are consistently mixed to peak performance. This American Society of Safety Engineers (ASSE) 1055 approved single product proportioner features AccuPro Pressure Regulation Technology to ensure accurate dilution regardless of fluctuations in water pressure. An E-Gap eductor provides backflow protection through the use of an elastomeric sleeve. With an option to lock in the on position, 14 pre-set metering tips and a bottle fill tube, this easy mounting unit is quickly ready for reliable dispensing and a lifetime of easy, tool-free maintenance.
1 dilution
Delivers diluted solutions at 1 GPM
AccuPro Pressure Reg. Tech
Resources
Distributors
Contact Us
Ingredients
For a list of ingredients, please see our Ingredient Disclosure page.
WARRANTY PROVISIONS: Purchaser's sole and exclusive remedies for breach on any warranty concerning this product shall be replacement of the product, or, at the option of the manufacturer, refund of the purchase price, upon return of the unused portion of the product, together with proof of purchase. Manufacturer shall not be liable for any consequential or other damage resulting from product use.