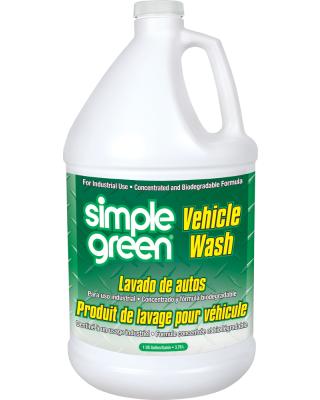 Simple Green Vehicle Wash Concentrate
This concentrated, readily biodegradable formula easily cuts through tough road grime on vehicle paint, stainless steel, glass, rubber and vinyl. Ideal for pressure washing, hand washing, and bucket and brush applications, Vehicle Wash helps maintain equipment for optimum performance and lifespan. The plant-based formula is clean-rinsing, providing a superior clean and residue-free shine in all water types.
Phosphate-free
Readily biodegradable formula
Uses plant-based surfactants
Resources
Available Sizes
5 Gallons
Distributors
Contact Us
Ingredients
For a list of ingredients, please see our Ingredient Disclosure page.
Product Documentation
WARRANTY PROVISIONS: Purchaser's sole and exclusive remedies for breach on any warranty concerning this product shall be replacement of the product, or, at the option of the manufacturer, refund of the purchase price, upon return of the unused portion of the product, together with proof of purchase. Manufacturer shall not be liable for any consequential or other damage resulting from product use.