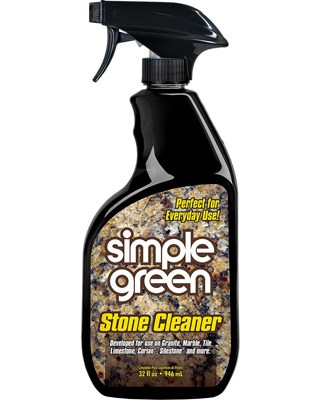 Simple Green® Stone Cleaner
Simple Green Stone Cleaner provides a soft, streak-free shine that makes natural and engineered stone surfaces look new again. The non-toxic formula is safer for use in kitchens. Use it daily on marble, granite, quartz, limestone, ceramic, porcelain, engineered stone, Corian®, Silestone®, and more. For best results use in conjunction with Simple Green Stone Polish for the ultimate in stone care.
Cleans and shines stone
Use on natural stone
Safe for synthetic stone
Resources
Distributors
Contact Us
Ingredients
For a list of ingredients, please see our Ingredient Disclosure page.
Product Documentation
WARRANTY PROVISIONS: Purchaser's sole and exclusive remedies for breach on any warranty concerning this product shall be replacement of the product, or, at the option of the manufacturer, refund of the purchase price, upon return of the unused portion of the product, together with proof of purchase. Manufacturer shall not be liable for any consequential or other damage resulting from product use.