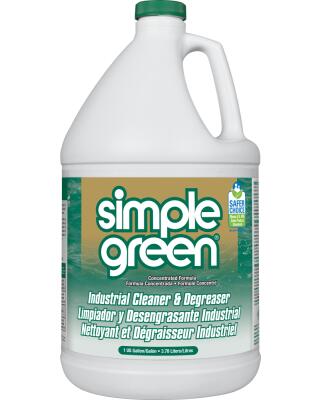 Simple Green® Industrial Cleaner & Degreaser
Simple Green Industrial Cleaner and Degreaser provides a safer alternative to caustic or acidic cleaners, bleaches and solvents. The trusted formula is non-abrasive and recognized by the U.S. EPA's Safer Choice Program as safer for people and the environment. Designed to be used on all washable surfaces, Simple Green powers away heavy dirt, grease, food residue and stains from countertops, sinks, tile, carpet, flooring, upholstery and more. The cost-effective concentrate can be used manually or in cleaning equipment such as such as floor scrubbers, dip tanks, carpet extractors, pressure washers, steam extractors and foamers. Easily cuts through tough grease, oils, cutting fluids, and built-up grime on equipment, engines, machinery, vehicles and manufactured parts making it ideal for a wide range of industries including janitorial, manufacturing, MRO, food processing, mining, automotive, transportation and engineering
Industrial strength cleaning, degreasing, and deodorizing
Recognized by the U.S. EPA's Safer Choice Program
Cleans counters, carpet, floors, machines, equipment and vehicles
Resources
Distributors
Contact Us
Ingredients
For a list of ingredients, please see our Ingredient Disclosure page.
Product Documentation
WARRANTY PROVISIONS: Purchaser's sole and exclusive remedies for breach on any warranty concerning this product shall be replacement of the product, or, at the option of the manufacturer, refund of the purchase price, upon return of the unused portion of the product, together with proof of purchase. Manufacturer shall not be liable for any consequential or other damage resulting from product use.