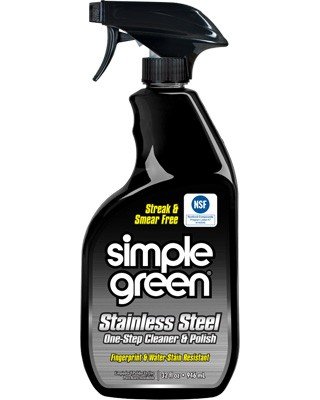 Simple Green® Stainless Steel Cleaner & Polish
Quickly and safely maintain stainless steel, chrome and other metal surfaces and appliances with this one-step cleaner and polish. The non-toxic formula easily and quickly removes fingerprints, water marks, food stains and grease, restoring luster and shine. Advanced polymer technology creates a barrier that helps resist future dust, marks and smudges, keeping your metal looking cleaner longer.
Cleans, polishes and protects
Use on stainless steel
Use on chrome surfaces
Resources
Distributors
Contact Us
Ingredients
For a list of ingredients, please see our Ingredient Disclosure page.
Product Documentation
WARRANTY PROVISIONS: Purchaser's sole and exclusive remedies for breach on any warranty concerning this product shall be replacement of the product, or, at the option of the manufacturer, refund of the purchase price, upon return of the unused portion of the product, together with proof of purchase. Manufacturer shall not be liable for any consequential or other damage resulting from product use.