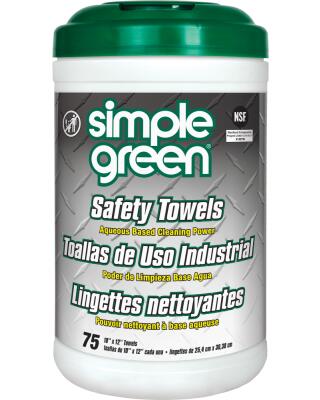 Simple Green Safety Towels
Simple Green Safety Towels are larger-sized wipes for heavy-duty, multi-purpose cleaning. They are pre-moistened with Crystal Simple Green, a powerful cleaner and degreaser that is biodegradable. The durable, dual-sided wipes feature a scouring side for tough scrubbing and a smooth side for a non-abrasive shine. The wipes feature excellent wicking and fluid holding capacity for cleaning liquid spills and are thermally bonded and melt-blown to ensure durability and resistance to rot and mildew. Easily remove grease, oil, food spills, wet paint, carbon, graphite, tar, soot, grime, most inks and more. They are safe for use on all washable surfaces including metals, concrete, rubber, finished wood, tile, laminates, concrete, stone, porcelain, carpets and other industrial surfaces. The cleaning solution contains no added color or scent and is NSF registered for use in food processing facilities and commercial kitchens.
Larger-sized wipes
Heavy-duty multi-purpose wipes
Uses Crystal Simple Green
Resources
Additional Information
Simple Green Safety Towels are dual-sided wipes that can cut through grease, grime and residue on equipment, machinery and manufactured parts. They are also NSF registered for use in food processing facilities and commercial kitchens.
Distributors
Contact Us
Ingredients
For a list of ingredients, please see our Ingredient Disclosure page.
Product Documentation
WARRANTY PROVISIONS: Purchaser's sole and exclusive remedies for breach on any warranty concerning this product shall be replacement of the product, or, at the option of the manufacturer, refund of the purchase price, upon return of the unused portion of the product, together with proof of purchase. Manufacturer shall not be liable for any consequential or other damage resulting from product use.