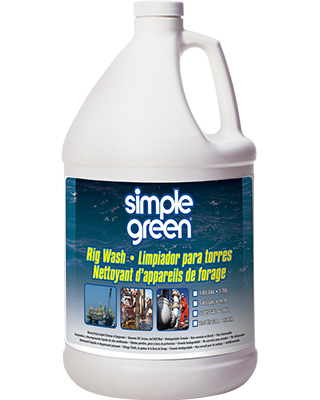 Simple Green® Rig Wash
Rig Wash is a heavy-duty, concentrated formula that cleans and degreases without the harsh solvents commonly found in other products. The non-flammable, non-abrasive, and non-caustic formula cuts through the heavy oils, grease, and drill muds found in the petroleum industry, helping keep equipment and vehicles running at optimum levels. It allows for grease and oil to break back out of the solution, making it ideal for entry into oil/water separators and clarifier equipment. For use in on and off-shore drilling rigs, this powerful formula eliminates built-up grime and residue on pumps, pads and jacks, platforms, decks, derricks, liners, casings, crown and traveling blocks, and blowout preventers. It can also be used to maintain vehicles, equipment, engines and generators.
Water-based heavy-duty cleaner and degreaser
Easily cuts through heavy oils, grease, and drill muds
Ideal for cleaning on and off-shore drilling rigs and equipment
Resources
Additional Information
Simple Green Rig Wash removes the heavy oils, grease and drill muds found in the petroleum industry. Use in both on and off-shore drill rig settings. Cleans drilling rigs, pumps, jacks, pads, platforms, decks, oil wells, vehicles and equipment.
Available Sizes
5 Gallons
55 Gallons
275 Gallons
Distributors
Contact Us
Ingredients
For a list of ingredients, please see our Ingredient Disclosure page.
Product Documentation
WARRANTY PROVISIONS: Purchaser's sole and exclusive remedies for breach on any warranty concerning this product shall be replacement of the product, or, at the option of the manufacturer, refund of the purchase price, upon return of the unused portion of the product, together with proof of purchase. Manufacturer shall not be liable for any consequential or other damage resulting from product use.