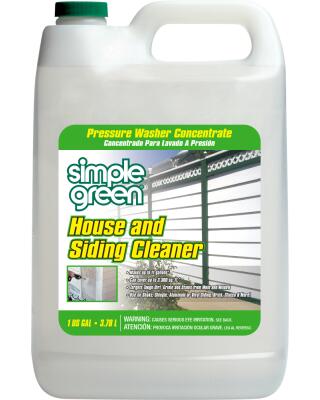 Simple Green® House & Siding Cleaner - Pressure Washer Concentrate
Simple Green House and Siding Cleaner is specially formulated to remove environmental pollution, dirt and grime from vinyl and aluminum siding, stucco, terra cotta roof tiles, and painted wood. It is also a perfect choice for use on shake, shingle or panel siding. This powerful formula was developed primarily to be used with pressure washing systems but can also be used for manually as a high performance house, siding, and roof cleaner.
Concentrated formula makes up to 21 gallons of product
Perfect for painted wood, aluminum, vinyl, brick, stucco and more
Non-corrosive and non-acidic formula
Will not harm landscaping or plants when used as directed
Cleans up to 3,800 sq. ft.
Resources
Additional Information

Ideal for use on home exteriors including stucco, vinyl siding, aluminum siding, painted wood, and shake or panel siding. It can also be used on vinyl, plastic, and painted or treated wood, outdoor furniture, terra cotta or shake roof tiles, arbors, gazebos, and more.

Ingredients

Water
Ethoxylated Alcohol
Sodium Citrate
Sodium Carbonate
1-Propanaminium, 3-amino-N-(carboxymethyl)-N,N-dimethyl-, N-coco acyl derivatives, chlorides, sodium salts
Alkyl imino dipropionic acid, monosodium salt
Quaternary Ammonium Chloride
EthanolColorant

Product Documentation