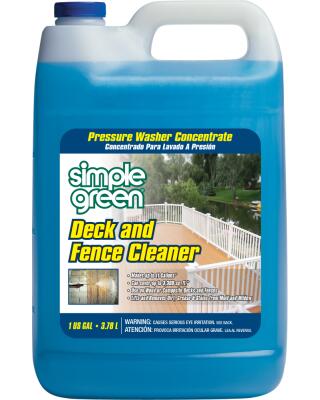 Simple Green® Deck & Fence Cleaner - Pressure Washer Concentrate
Simple Green Deck and Fence Cleaner is specially formulated to remove environmental pollution, dirt and grime from decks, fences, and other outdoor structures. It brightens and rejuvenates wood and composites as it cleans, removing soot, exhaust, and other environmental pollutants, plus dirt, grime, tree sap and pollen. The formula was developed to be used either with pressure washing systems or to be used manually as a powerful deck and fence cleaner.
Concentrated formula
Makes up to 21 gallons
Cleans and brightens wood
Additional Information
Ideal for use on wood, vinyl, or composite decks, fences, outdoor furniture, arbors, gazebos, sheds, swing sets, jungle gyms, and more. This formula can be used either with pressure washing equipment or manually.
Distributors
Contact Us
Ingredients
Water
Ethoxylated Alcohol
Sodium Citrate
Sodium Carbonate
1-Propanaminium, 3-amino-N-(carboxymethyl)-N,N-dimethyl-, N-coco acyl derivatives, chlorides, sodium salts
Alkyl imino dipropionic acid, monosodium salt
Quaternary Ammonium Chloride
Ethanol
Colorant
Product Documentation
WARRANTY PROVISIONS: Purchaser's sole and exclusive remedies for breach on any warranty concerning this product shall be replacement of the product, or, at the option of the manufacturer, refund of the purchase price, upon return of the unused portion of the product, together with proof of purchase. Manufacturer shall not be liable for any consequential or other damage resulting from product use.