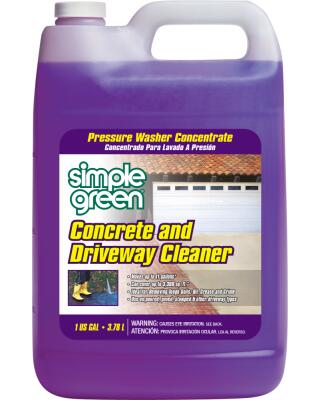 Simple Green® Concrete & Driveway Cleaner - Pressure Washer Concentrate
Simple Green Concrete and Driveway Cleaner is specially formulated to remove oil, grease and grime from concrete surfaces and driveway areas. It removes most tough stains and discolorations (not caused by dyes), and is non-corrosive and non-degrading. This powerful formula was developed to be used with pressure washing systems or to be used for manual cleaning of concrete walkways, patios, driveways, sidewalks any concrete surface.
Concentrated formula makes up to 21 gallons of product
Removes oil, grease and grime from concrete surfaces
Non-corrosive, non-degrading and non-acidic formula
Will not harm landscaping or plants when used as directed
Cleans up to 3,800 sq. ft.
Additional Information
Ideal for use on concrete walks, steps or driveways, concrete, brick, masonry block, paver patios or walls and much more. Keep all of your concrete surfaces grime and stain free.
Ingredients
Water
Ethoxylated Alcohol
Sodium Citrate
Sodium Carbonate
1-Propanaminium, 3-amino-N-(carboxymethyl)-N,N-dimethyl-, N-coco acyl derivatives, chlorides, sodium salts
Alkyl imino dipropionic acid, monosodium salt
Colorant
Product Documentation