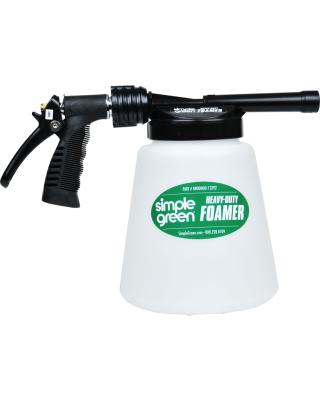 Simple Green® Multi-Dilution Foamer
The Simple Green Multi-Dilution Foamer produces a thick foam that clings to hard-to-reach spaces. It provides an easy and efficient transition from cleaning and sanitizing to rinsing. Color coded metered inserts offers control over solution application. The foamer provides a powerful jet spray for large jobs and a precision stream for smaller applications.
Foam gets hard-to-reach spaces
Metering tip kit
Easy hose-end attachment
Resources
Distributors
Contact Us
Ingredients
For a list of ingredients, please see our Ingredient Disclosure page.
WARRANTY PROVISIONS: Purchaser's sole and exclusive remedies for breach on any warranty concerning this product shall be replacement of the product, or, at the option of the manufacturer, refund of the purchase price, upon return of the unused portion of the product, together with proof of purchase. Manufacturer shall not be liable for any consequential or other damage resulting from product use.