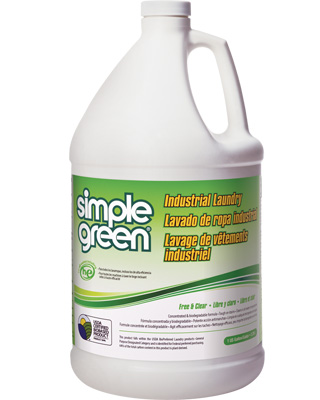 Simple Green® Industrial Laundry Detergent
Simple Green Industrial Laundry Detergent easily lifts dirt and stains from clothing, bedding, table linens and more, leaving fabric feeling soft and clean. The detergent contains no detectable 1,4-dioxane, which has been linked to cancer. The free and clear formula is gentle on delicate skin, readily biodegradable and septic-safe. It is optimized to work great in any temperature water and is safe for whites, colors and inherently fire-resistant fabrics.
No detectable 1,4-dioxane
Concentrated detergent
Readily biodegradable formula
Resources
Additional Information
Simple Green Industrial Laundry Detergent cleans and removes stains from fabrics, clothing, bedding, towels, linens and more. Tough on stains like blood, makeup, grease, food, mud, grass and more.
Available Sizes
5 Gallons
55 Gallons
Distributors
Contact Us
Ingredients
For a list of ingredients, please see our Ingredient Disclosure page.
Product Documentation
WARRANTY PROVISIONS: Purchaser's sole and exclusive remedies for breach on any warranty concerning this product shall be replacement of the product, or, at the option of the manufacturer, refund of the purchase price, upon return of the unused portion of the product, together with proof of purchase. Manufacturer shall not be liable for any consequential or other damage resulting from product use.