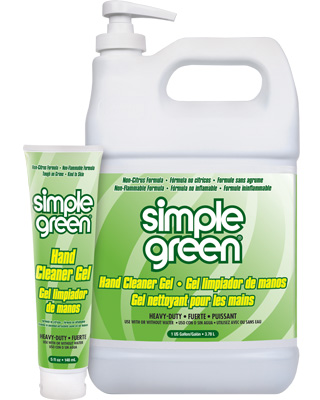 Simple Green® Hand Cleaner Gel
Heavy-duty hand cleaning with the trusted power of Simple Green All-Purpose Cleaner. Easily removes grease, oil, grime, wet paint and odors without ammonia or citrus which can irritate skin. Utilizes natural pumice and lanolin to clean, sooth and protect hands. Does not require water or rinsing.
Removes heavy-duty grease
Removes oil and grime
Non-citrus formula
Resources
Additional Information
Simple Green Hand Cleaner Gel easily removes dirt, grease, oil, tar, soot, wet paint and more. It is perfect for use at the office and around the home, as well as for recreational activities such as camping, fishing, biking, RVing and more.
Distributors
Contact Us
Ingredients
For a list of ingredients, please see our Ingredient Disclosure page.
Product Documentation
WARRANTY PROVISIONS: Purchaser's sole and exclusive remedies for breach on any warranty concerning this product shall be replacement of the product, or, at the option of the manufacturer, refund of the purchase price, upon return of the unused portion of the product, together with proof of purchase. Manufacturer shall not be liable for any consequential or other damage resulting from product use.