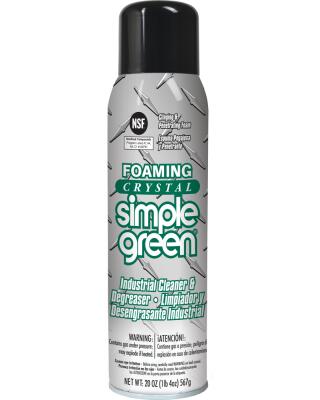 Foaming Crystal Simple Green® Industrial Cleaner and Degreaser
Foaming Crystal Simple Green Industrial Cleaner and Degreaser's specialized foaming formula clings to vertical and hard-to-reach surfaces enabling controlled application and longer contact time on soiled areas. This non-abrasive, non-flammable, and non-caustic formula can be used on metals, finishes, plastic, and rubber. Crystal is fragrance-free, color-free, clean-rinsing, and NSF registered A1, A4, A8, C1, making it ideal for critical cleaning applications across a variety of industries such as food processing, commercial kitchens, cosmetics, pharmaceuticals, manufacturing, and packaging.
Industrial-strength cleaner and degreaser cuts through grime
NSF registered A1, A4, A8, B1, C1
No added color or scent
Resources
Additional Information
Foaming Crystal Simple Green Industrial Cleaner & Degreaser safely cleans and degreases metals, plastic, rubber, glass and other surfaces. NSF registered for use as a general cleaner in food processing facilities. Clean rinsing formula is perfect for surface-prep prior to painting, plating or welding.
Distributors
Contact Us
Ingredients
For a list of ingredients, please see our Ingredient Disclosure page.
Product Documentation
WARRANTY PROVISIONS: Purchaser's sole and exclusive remedies for breach on any warranty concerning this product shall be replacement of the product, or, at the option of the manufacturer, refund of the purchase price, upon return of the unused portion of the product, together with proof of purchase. Manufacturer shall not be liable for any consequential or other damage resulting from product use.