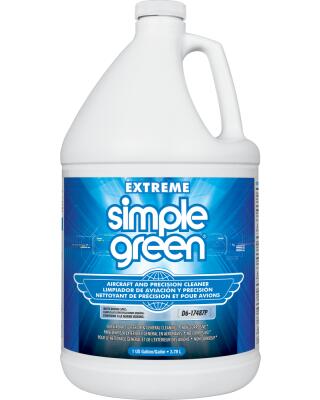 Extreme Simple Green® Aircraft & Precision Cleaner
Extreme Simple Green Aircraft and Precision Cleaner was specifically designed with long term metal cleaning in mind. It's a non-flammable, water-based cleaner with an added corrosion inhibitor that provides an extra layer of protection when cleaning delicate metals, rubbers and plastics. Its combined high soil capacity, superior grease-cutting ability, and clean-rinsing formula prevents redeposition - ensuring fast, effective, and high precision cleaning. This formula can be used on aluminum, carbon fiber, high tech alloys, structural metals, paints, protective coatings, and more. Extreme avoids oxidizing finishes, rusting surfaces, and degrading plastics, making it ideal for maintaining structural metals, hoses, seals, and factory finishes.
Precision cleaning and degreasing without caustic solvents
Non-flammable formula is a great alternative to caustic cleaners
Optimized to clean metal, plastic, rubber, and painted surfaces
Resources
Additional Information
Extreme Simple Green Aircraft & Precision Cleaner is ideal for use on engines, aircraft, vehicles, metals, plastics, high-tech alloys and more. Safe for structural metals, hoses, seals and factory finishes.
Available Sizes
16 Ounces
32 Ounces
5 Gallons
55 Gallons
275 Gallons
Distributors
Contact Us
Ingredients
For a list of ingredients, please see our Ingredient Disclosure page.
Product Documentation
WARRANTY PROVISIONS: Purchaser's sole and exclusive remedies for breach on any warranty concerning this product shall be replacement of the product, or, at the option of the manufacturer, refund of the purchase price, upon return of the unused portion of the product, together with proof of purchase. Manufacturer shall not be liable for any consequential or other damage resulting from product use.