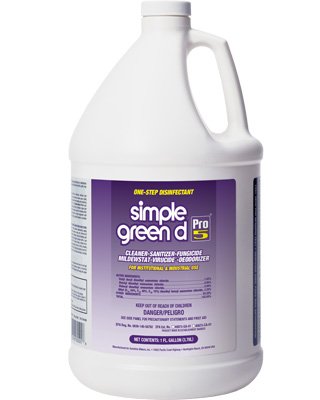 Simple Green d Pro 5®
Use Simple Green d Pro 5 in: Athletic facilities, Bars & Restaurants, Bathrooms, Business & office buildings, Cafeterias, Day care centers, Exercise facilities, Food preparation areas, Hotels & Motels, Kitchens, Nursing homes, Pet animal quarters, Public rest rooms, Schools & Colleges, USDA inspected food processing facilities, Zoos.
ONE-STEP DISINFECTANT
SANITIZER
Simple Green d Pro 5 has demonstrated effectiveness against viruses similar to SARS-CoV-2 on hard, non-porous surfaces. Therefore, Simple Green d Pro 5 can be used againstSARS-CoV-2 when used in accordance with the directions for use against Norovirus on hard, non-porous surfaces. Refer to the CDC website at www.cdc.gov & coronavirus for additional information.
FUNGICIDE
MILDEWSTAT
VIRUCIDE*
DEODORIZER
Simple Green d Pro 5 kills Pandemic 2009 H1N1 influenza A virus (formerly called swine flu).
FOR INSTITUTIONAL & INDUSTRIAL USE
Resources
Available Sizes
5 Gallons
55 Gallons
275 Gallons
Distributors
Contact Us
Directions for Use
Preparation of Disinfectant Use-Solution: Mix 2 oz. per gallon of water (1:64).
DISINFECTION / VIRUCIDAL* / FUNGICIDAL / MOLD AND MILDEW CONTROL DIRECTIONS:
Apply use-solution to hard, nonporous surfaces, thoroughly wetting the surfaces, with a cloth, mop, sponge, sprayer or by immersion. Treated surfaces must remain wet for 10 minutes. Wipe dry with a cloth, sponge or mop or allow to air dry. For heavily soiled areas, a preliminary cleaning is required. For sprayer applications, use a coarse spray device. Spray 6 - 8 inches from surface; rub with brush, sponge or cloth. Avoid breathing spray.
U.S. PUBLIC HEALTH SERVICE FOOD SERVICE SANITIZATION RECOMMENDATIONS CLEANING AND SANITIZING:
Equipment and utensils shall be thoroughly pre-flushed or pre-scraped and when necessary, pre-soaked to remove gross food particles and soil.
1. Thoroughly wash equipment and utensils in hot detergent solution.
2. Rinse utensils and equipment thoroughly with clean water.
3. Sanitize equipment and utensils by immersion in a use solution of 1 oz. Simple Green d Pro 5 per 1 gallon of water (400 ppm active quat) (or equivalent dilution) for at least 60 seconds at a temperature of 75°F.
4. For equipment and utensils too large to sanitize by immersion, apply a use solution of 1 oz. Simple Green d Pro 5 per 1 gallon of water (400 ppm active quat) by rinsing, spraying or swabbing until thoroughly wet.
5. Allow sanitized surface to drain and air dry. Do not rinse.
TO SANITIZE NON-FOOD CONTACT SURFACES:
Mix 1/2 oz. of Simple Green d Pro 5 per gallon of water to sanitize hard nonporous surfaces. Treated surfaces must remain wet for 60 seconds. Wipe or dry with a sponge, mop or cloth or allow to air dry.
Before use in federally inspected meat and poultry food processing plants and dairies, food products and packaging materials must be removed from the room or carefully protected.
Rinse all surfaces that come in contact with food such as countertops, appliances, tables and stovetops with potable water before reuse.
Do not use on utensils, glassware and dishes as a disinfectant.
For mold and mildew:
At 2 oz. per gallon, Simple Green d Pro 5 will effectively inhibit the growth of mold and mildew and the odors caused by them when applied to hard, nonporous surfaces. Follow disinfection instructions. Repeat treatment every seven days, or more often if new growth appears.
*KILLS HIV, HBV AND HCV ON PRE-CLEANED HARD, NON-POROUS SURFACES/OBJECTS PREVIOUSLY SOILED WITH BLOOD/BODY FLUIDS
Ingredients
For a list of ingredients, please see our Ingredient Disclosure page.
Product Documentation
WARRANTY PROVISIONS: Purchaser's sole and exclusive remedies for breach on any warranty concerning this product shall be replacement of the product, or, at the option of the manufacturer, refund of the purchase price, upon return of the unused portion of the product, together with proof of purchase. Manufacturer shall not be liable for any consequential or other damage resulting from product use.