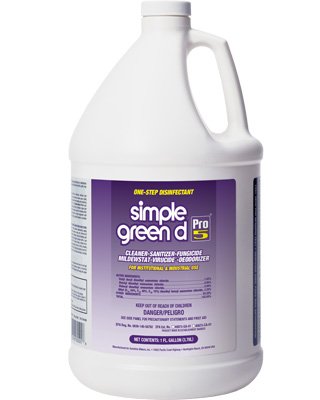 Simple Green d Pro 5®
Simple Green d PRO 5 concentrated cleaner, deodorant, disinfectant, sanitizer, fungicide mildewstat, virucide. For Institutional and Industrial Use. Kills the coronavirus (SARS-Related Coronavirus 2) that causes COVID-19 and Cold & Flu Virus on hard, non-porous, non-food surfaces. Use in athletic facilities, bars & restaurants, bathrooms, business & office buildings, cafeterias, day care centers, food preparation areas, hotels, institutional kitchens, nursing homes, pet animal quarters, public restrooms, schools & colleges, USDA inspected food processing facilities, and more.
Disinfectant. Use on sinks, urinals, toilet bowls, showers, tubs, bathroom fixtures, doorknobs, counters, floors, and desks.
An effective sanitizer for use on pre-cleaned food contact surfaces.
Concentrated, one-step, hospital use disinfectant. Kills cold and flu virus on hard non-porous, non-food surfaces.
Deodorizes by killing microorganisms that cause offensive odors.
For Institutional & Industrial Use; athletic facilities, restaurants, bathrooms, office buildings, hotels, institutional kitchens, schools, medical offices, and more.
Kills coronavirus (SARS-Related Coronavirus 2) that causes COVID-19 on hard non-porous surfaces in 1 minute.
Fungicide. Kills the athlete's foot fungus.
Inhibits the growth of mold and mildew when used as directed.
The formula contains no added color or fragrance, making it ideal for use in food production, on food-contact surfaces in public eating places, dairy-processing and food processing equipment.
Delivers non-acidic disinfectant and cleaning performance in an economical concentrate.
Resources
Available Sizes
5 Gallons
55 Gallons
275 Gallons
Distributors
Contact Us
Ingredients
For a list of ingredients, please see our Ingredient Disclosure page.
Product Documentation
WARRANTY PROVISIONS: Purchaser's sole and exclusive remedies for breach on any warranty concerning this product shall be replacement of the product, or, at the option of the manufacturer, refund of the purchase price, upon return of the unused portion of the product, together with proof of purchase. Manufacturer shall not be liable for any consequential or other damage resulting from product use.