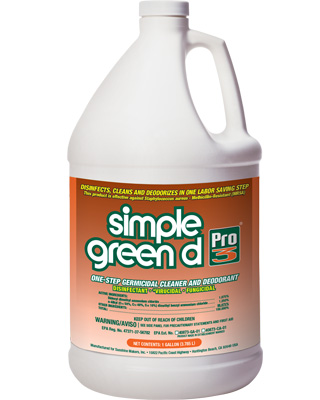 Simple Green d Pro 3® One-Step Germicidal Cleaner and Deodorant
Eliminate significant health concerns, unsightly stains and unpleasant odors caused by bacteria, germs, viruses and fungus with confidence. Simple Green d Pro 3 One-Step Germicidal Cleaner and Deodorant is an EPA-registered formula made up of highly active ingredients which ensure superior performance. It kills a broad spectrum of health hazards including HIV-1 (AIDS virus), Escherichia coli (E. coli), Influenza A/Texas Virus (Influenza), Staphylococcus aureus (Staph), Staphylococcus aureus-Methicillin-Resistant (MRSA) and Trichophyton mentagrophytes (Athlete's Foot Fungus). It cleans, disinfects and deodorizes in one easy step. Ideal for bathrooms, kitchens, offices, countertops, appliances, desks, doorknobs, telephones, floors, garbage cans and all washable, hard, nonporous surfaces.
EPA registered disinfectant
Kills serious health concerns including E. coli, HIV-1, Influenza Type A/Texas, MRSA, and more
Germicide, virucide and fungicide kills potentially dangerous bacteria, viruses and fungi
Fresh herbal-pine scent for quick deodorizing
Disinfects surfaces in just 10 minutes
Additional Information
Simple Green d Pro 3 disinfects washable, nonporous surfaces in kitchens, bathrooms, offices and more. Ideal for waiting rooms, cafeterias, clinics, factories, gyms, salons, schools, hotels, prisons, airports and anywhere cleanliness and disinfection are necessary.
Ingredients
Water
Ethoxylated Alcohol
Didecyl dimethyl ammonium chloride
n-Alkyl (C14 50%, C12 40%, C16 10%) dimethyl benzyl ammonium chloride
Tetrasodium EDTA
Ethanol
Fragrance
Colorant
Product Documentation
WARRANTY PROVISIONS: Purchaser's sole and exclusive remedies for breach on any warranty concerning this product shall be replacement of the product, or, at the option of the manufacturer, refund of the purchase price, upon return of the unused portion of the product, together with proof of purchase. Manufacturer shall not be liable for any consequential or other damage resulting from product use.