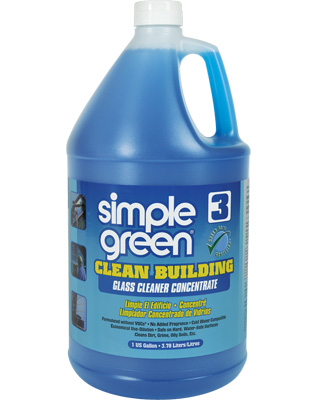 Simple Green Clean Building® Glass Cleaner
The biodegradable glass cleaner restores clarity and shine to glass, mirrors and other reflective surfaces. Strong wetting agent lifts soils without leaving behind soapy residues that can cause haze or streaks. The concentrated formula dilutes at 1:30 for great value. It meets the Green Seal™ GS-37 Standard, including reduced health, safety, and environmental impact of formulations as well as product efficacy requirements. It also complies with LEED green building requirements and environmentally preferable product purchasing programs in place throughout federal, state, and municipal governments.
Meets Green Seal™ Standard
LEED building compliant
Resources
Additional Information
Simple Green Clean Building Glass Cleaner Concentrate removes dirt, fingerprints and smudges from glass and reflective surfaces without leaving behind streaks or smears. It is part of a color-coded, number-coded and bilingually labeled cleaning line which also includes All-Purpose Cleaner, Bathroom Cleaner and Carpet Cleaner.
Distributors
Contact Us
Ingredients
For a list of ingredients, please see our Ingredient Disclosure page.
Product Documentation
WARRANTY PROVISIONS: Purchaser's sole and exclusive remedies for breach on any warranty concerning this product shall be replacement of the product, or, at the option of the manufacturer, refund of the purchase price, upon return of the unused portion of the product, together with proof of purchase. Manufacturer shall not be liable for any consequential or other damage resulting from product use.