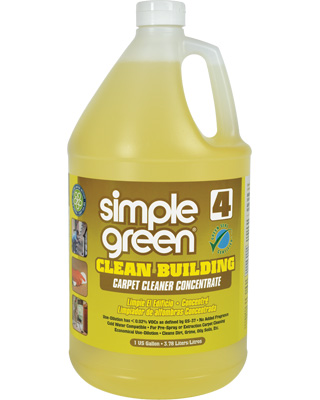 Simple Green Clean Building® Carpet Cleaner
Simple Green Clean Building Carpet Cleaner removes dirt and stains from carpet, rugs and upholstery. Will not damage carpet fibers, degrade carpet backings or leave residue behind. Certified by the Carpet and Rug Institute as being safe for use on carpets in pre-spray and extraction cleaning. The concentrated formula dilutes at 1:21 for great value. Meets the Green Seal™ GS-37 Standard. Complies with LEED green building requirements and most environmentally preferable product purchasing programs in place throughout government. Ideal for industrial and institutional use, especially in high traffic areas.
Effectively cleans carpets, rugs, and upholstery
Lifts and removes dirt, oils, and stains
Carpet and Rug Institute Certified
Resources
Additional Information
Simple Green Clean Building Carpet Cleaner Concentrate pulls dirt, grime, oily soils, food messes and more from carpet and rugs. The clean rinsing and deep cleaning formula helps maintain stain resistance of carpet. It is part of a color-coded, number-coded and bilingually labeled cleaning line which also includes All-Purpose Cleaner, Bathroom Cleaner and Glass Cleaner.
Distributors
Contact Us
Ingredients
For a list of ingredients, please see our Ingredient Disclosure page.
Product Documentation
WARRANTY PROVISIONS: Purchaser's sole and exclusive remedies for breach on any warranty concerning this product shall be replacement of the product, or, at the option of the manufacturer, refund of the purchase price, upon return of the unused portion of the product, together with proof of purchase. Manufacturer shall not be liable for any consequential or other damage resulting from product use.