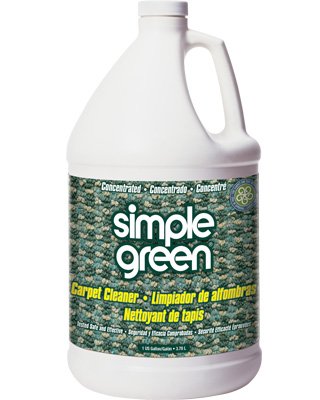 Simple Green® Carpet Cleaner
Our professional-strength formula is the safer choice for carpet cleaning. The non-toxic formula contains no bleach or petroleum distillates, commonly found in other carpet cleaners. Deodorizing as it deep-cleans, it removes heavy traffic marks and tough stains such as grease, coffee, wine, chocolate, blood and lipstick. Certified safe and effective by the Carpet and Rug Institute, Simple Green Carpet Cleaner also contains a special protection agent that helps maintain the stain resistance already found in most carpets, rugs and upholstery. The clean rinsing formula has no added color making it safe for even the lightest of carpets. It can also be used to spot clean or in hot water extraction and steam carpet machines.
Non-toxic formula
Professional-strength cleaning
Deodorizing formula
Resources
Additional Information
Simple Green Carpet Cleaner can be used to spot clean or in hot water extraction and steam carpet machines to clean and remove stains from carpeting, rugs, and fabric upholstery. The safer formula does not contain harsh chemicals or optical brighteners.
Available Sizes
22 Ounces
5 Gallons
55 Gallons
Distributors
Contact Us
Ingredients
For a list of ingredients, please see our Ingredient Disclosure page.
WARRANTY PROVISIONS: Purchaser's sole and exclusive remedies for breach on any warranty concerning this product shall be replacement of the product, or, at the option of the manufacturer, refund of the purchase price, upon return of the unused portion of the product, together with proof of purchase. Manufacturer shall not be liable for any consequential or other damage resulting from product use.