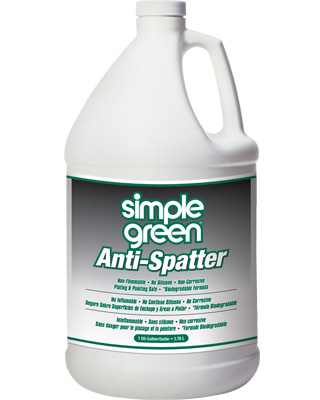 Simple Green® Anti-Spatter
High-performance, silicone and oil-free spatter control. Simple Green Anti-Spatter is a non-flammable, non-caustic, clean-rinsing formula that protects welding equipment and metal work surfaces, eliminating the need for grinding, scraping or other spatter removal methods that can cause damage and injury. This easy-to-use solution goes on quickly and rinses easily. The non-fuming ingredients contain no added color or scent, making it ideal for regular use. Rinses residue-free for use prior to plating or painting.
Protects welding equipment and work surfaces from spatter
Oil and silicone free, no chlorinated solvents
Rinses easily for use prior to coating, plating or painting
Resources
Additional Information
Simple Green Anti-Spatter, silicone- and oil-free spatter release solution, is compatible with aluminum and steel nozzles, diffusers, tips, and other surfaces adjacent to welding. Ready-to-use and clean-rinsing for fast and easy application with great results.
Available Sizes
32 Ounces
5 Gallons
55 Gallons
Distributors
Contact Us
Ingredients
For a list of ingredients, please see our Ingredient Disclosure page.
Product Documentation
WARRANTY PROVISIONS: Purchaser's sole and exclusive remedies for breach on any warranty concerning this product shall be replacement of the product, or, at the option of the manufacturer, refund of the purchase price, upon return of the unused portion of the product, together with proof of purchase. Manufacturer shall not be liable for any consequential or other damage resulting from product use.