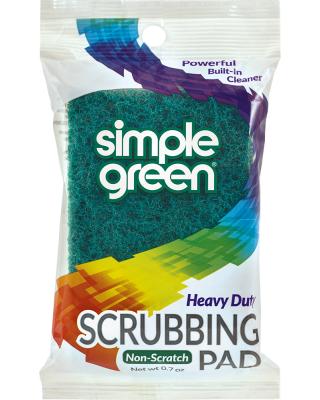 Simple Green® Scrubbing Pad
Simple Green® Scrubbing Pads are convenient cleaning tools packed full of Simple Green® All-Purpose Cleaner. The non-abrasive scrubbing pad safely removes dirt, food, oil and other grime throughout your home. Just wet with water and squeeze to activate the biodegradable cleaning solution. The durable scrubber is made from 100% recycled polyester.
Non-abrasive scrubbing pad
Moistened with Simple Green
Resources
Additional Information
They utilize a safer, non-hazardous cleaning solution, which does not require gloves or other PPE, making them ideal for use in a number of industries. The non-corrosive solution is ideal for cleaning vehicles, machinery, tools and equipment. The non-abrasive pads are safe for delicate surfaces including tile, stone, porcelain, painted surfaces, sealed wood and fiberglass. The pads are compact and light weight. They also last for multiple applications, making them ideal for use in the field.
Pads are made from 100% recycled polyester.
Distributors
Contact Us
Ingredients
For a list of ingredients, please see our Ingredient Disclosure page.
Product Documentation
WARRANTY PROVISIONS: Purchaser's sole and exclusive remedies for breach on any warranty concerning this product shall be replacement of the product, or, at the option of the manufacturer, refund of the purchase price, upon return of the unused portion of the product, together with proof of purchase. Manufacturer shall not be liable for any consequential or other damage resulting from product use.