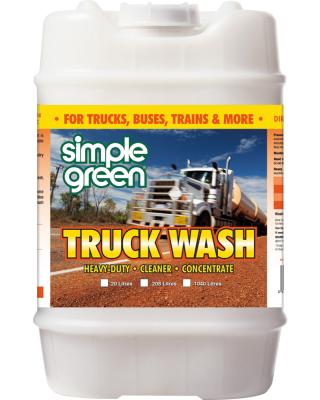 Simple Green® Truck Wash
Simple Green Truck Wash is a highly concentrated, low foaming formula that is non-abrasive and non-corrosive so it won't scratch or damage surfaces, making it suitable for use over an entire vehicle surface. The non-flammable, non-corrosive formula is safe on factory tinted screens, fibreglass covers, tarpaulins, stainless steel, aluminum, seals, rubber, plastics, vinyl, paintwork and chrome.
Removes Grim, bug juice, mud, soot, dust, dirt, oil and grease.
Apply with a pressure washer or manual application.
Rinses residue free.
Additional Information
Simple Green Truck Wash can be applied with a pressure washer, high or low volume foamer, low pressure sprayer or trigger applicator. Use the recommended dilution ratios table as a guide and agitate with a brush or sponge if required. Rinse or pressure wash off with clean water to leave a residue-free finish.
Product Documentation
Download the Safety Data Sheet