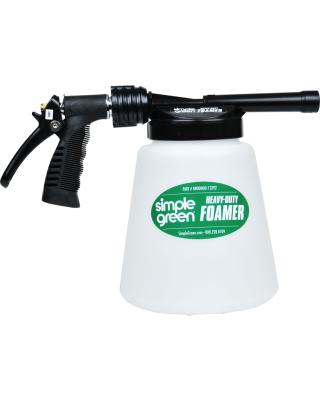 Simple Green® Multi-Dilution Foamer
A convenient and easy way to deliver a powerful jet spray of Simple Green concentrated cleaners, degreasers and disinfectants. Foaming provides clinging ability for vertical and hard to reach surfaces, allows for increased contact time and enhances product performance.
The foamer features 14 dilution settings that can be chosen from color coded metered inserts, offering everything from wide spray application to precision streaming. The hose-end attachment makes the device convenient for use in any number of settings. It also enables an easy transition from cleaning and sanitizing to rinsing. The 2,721 gram cleaner capacity ensures the foamer is easy-to-handle and compact while preventing the need for frequent refilling.
We recommend a number of our industrial concentrated cleaning, degreasing and disinfecting products for use with the foamer.