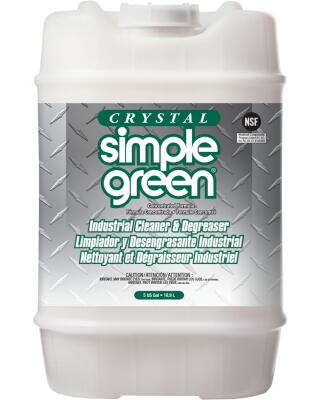 Crystal Simple Green® Industrial Cleaner & Degreaser
Crystal Simple Green is formulated for critical cleaning applications that demand a fragrance-free solution. It is a highly effective, concentrated, all-purpose degreaser and cleaner. Because Crystal Simple Green is fragrance-free, color-free and has high rinsibility, it is an ideal and effective degreaser/cleaner for use in many industries.
Additional Information
Ideal for industrial/manufacturing, electronics and parts washing industries. Also approved for use in Federally inspected meat and poultry plants and meets Montreal Protocol Guidelines and FDA requirements for cleaning in cosmetics, medical and pharmaceutical environments where Good Manufacturing Practices (GMP) are followed. No ozone-depleting substance warning labels required.
Ingredients
Water
Ethoxylated Alcohol
Sodium Citrate
Tetrasodium N,N-bis(carboxymethyl)-L-glutamate
Sodium Carbonate
Citric Acid
Product Documentation
Download the Safety Data Sheet