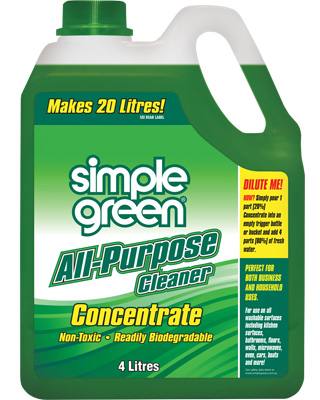 Simple Green® All-Purpose Cleaner
Simple Green All-Purpose Cleaner is a powerful cleaner and degreaser designed for effective and environmentally safer use on all washable surfaces. The orally non-toxic and biodegradable formula easily removes tough dirt and grime without chemicals that can harm people and the environment. The concentrated formula provides up to 30 times the cleaning value. Use it full-strength for heavy messes or easily dilute it with water for daily cleaning. Removes built-up dirt, grease, food spills, ink, pet stains and other tough grime indoors and out. For use on floors, carpets, walls, countertops, appliances, furniture, fabric, tools and more, this versatile all-purpose cleaner can easily replace a cupboard full of harsh cleaners, detergents, degreasers and laundry pre-soaks, making clean-up simple and safer. This formula is orally non-toxic per The Globally Harmonized System of Classification and Labeling of Chemicals and readily biodegradable per OECD 301D. It's backed by our 100% money-back guarantee.
All-purpose concentrated cleaner removes dirt, grease and stains
Cleans counters, carpet, floors, fabric, equipment and vehicles
Safer, orally non-toxic formula
Can be used in manually or in equipment such as floor scrubbers, carpet cleaners, pressure washers and parts washers
Use full strength on heavy messes or custom dilute for daily cleaning
Additional Information
Simple Green All-Purpose Cleaner can be used on any washable surface, from floors and walls to laundry stains. It removes the toughest stains including dirt, grease, oil, pet stains, coffee and juice stains, lipstick, blood, adhesives and much more.
Ingredients
Water
Ethoxylated Alcohol
Sodium Citrate
Tetrasodium N,N-bis(carboxymethyl)-L-glutamate
Sodium Carbonate
Citric Acid
Fragrance
Colourant
Isothiazolinone Preservative
Product Documentation
Download the Safety Data Sheet