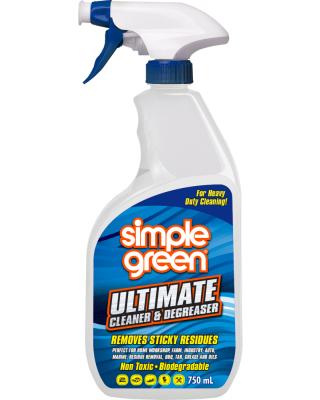 Simple Green® Ultimate Cleaner &amp Degreaser
Simple Green Ultimate Cleaner & Degreaser is formulated for heavy duty applications around the home, workshop, farm, boat and car. A concentrate with excellent rinsability, this highly versatile product is effective on metal, concrete, rubber, synthetics, plastic and other water-safe surfaces. Dilute it for washing cars, boats, equipment, sports gear, driveways and with use in pressure washers. Simple Green Ultimate Cleaner & Degreaser penetrates oils, sticky residues, and dirt, breaking them into smaller particles and lifting them away from the surface they are clinging to. Once loose, they are easily removed with a scrub or a strong wash down - or both.
Additional Information
Where To Use Formulated to be used around the home, in workshops, farms, boats, cars, paint brushes, wheels, tyres, chains, fishing equipment, motors, engines, machines, floors, BBQ's, and with pressure washers.
Product Documentation