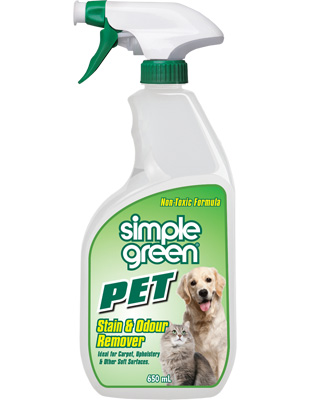 Simple Green® Pet Stain & Odour Remover
Simple Green Pet Stain & Odor Remover with Fresh Bond® Odor Eliminating Technology. Non-toxic and biodegradable, Simple Green Pet Stain & Odor Remover is People, Pet & Surface safe! Its supreme formulation outperforms other leading brands and Fresh Bond Technology eliminates odors permanently - no resoiling or remarking. It's perfect for use on those places where stinky pet odors build up and on the "accidents" they have. It can be used as a spot treatment (spray directly on soiled/stained spot) and then used in extraction machines (pour directly into reservoir) for cleaning larger carpeted areas. Simple Green Pet Stain & Odor Remover has a wonderful scent that will leave your home smelling clean and fresh, and best of all… it will help you love your dog again, while your home maintains its fresh, clean appearance!
Ideal for carpet, upholstery and other soft surfaces
People, pet and surface safe when used as directed
Non-toxic formula
Additional Information
Use on carpets, rugs, upholstery, pet bedding, litter boxes, crates & carriers, tile, finished wood, laminates, concrete, clothing, curtains & drapes, auto carpet & upholstery, sleeping bags, anywhere pet soils and stains occur!
Ingredients
Water
Sodium dodecyl Sulfate
Modified Polymer
Sodium Saccharin
Bacillus amyloliquefaciens
Bacillus subtilis
acillus pumilus
Bacillus licheniformis
Bacillus megaterium
Fragrance
Product Documentation