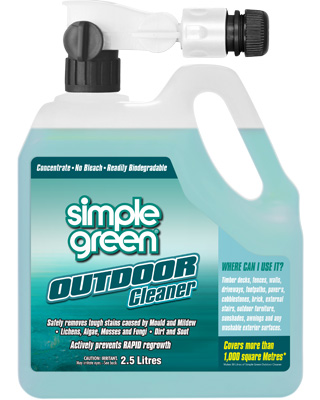 Simple Green® Outdoor Cleaner
In areas where there is not enough sunlight or air movement, mould, mildew and moss will start to grow. These slippery, unsightly areas are unattractive and they are also unsafe. Readily biodegradable and non-flammable, Simple Green Outdoor Cleaner concentrate is a TOUGH, no nonsense way of dealing with large areas of mould and moss. Simple Green Outdoor Cleaner leaves a mild residue that will eliminate the fast re-growth of moss and mould.
Additional Information
Simple Green Outdoor Cleaner penetrates the surface and loosens the dirt the biologicals are growing in. Once loose, they are easily removed with a scrub or a strong wash down - or both. If you want, just leave it and let nature do the rest.
Formulated to be used on large areas like roofs*, walls, siding, fences, driveways, decked areas and more.
Ingredients
Water
Ethoxylated Alcohol
Quaternary ammonium chloride
Proprietary Mixture
Sodium Citrate
Tetrasodium Diacetate Glutamate
Sodium Carbonate
Citric Acid
Product Documentation