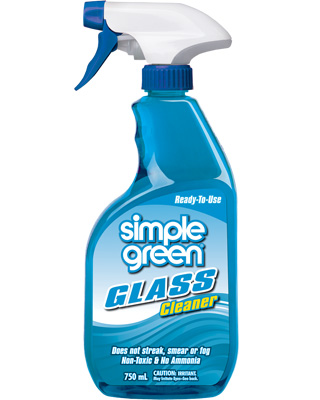 Simple Green® Ready-To-Use Glass Cleaner
Ready-To-Use Simple Green Glass Cleaner is the safer alternative to toxic cleaners and solvents. It's non-toxic, ammonia-free, and ready-to-use. In the kitchen: granite counter tops, ceramic tile, glass table tops, appliances, chrome fixtures, stainless steel and microwave ovens. In the bathroom: mirrors, glass shelving, porcelain fixtures and chrome faucets.
Additional Information
Simple Green Ready-To-Use Glass Cleaner is also great for use on TV and computer screens, tinted and plain auto glass, chrome, bumpers, trim and wheels.
Ingredients
Water
Isopropyl Alcohol
Ethylene Glycol diethyl ether
Sodium Lauryl Sulfate
Fragrance
Colourant
Product Documentation