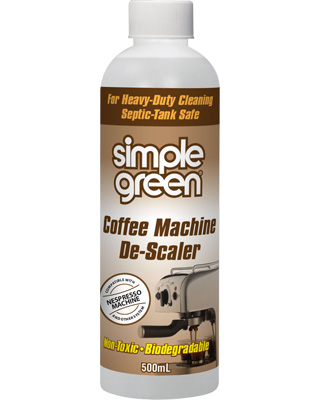 Simple Green® Coffee Machine De-Scaler
Simple Green Coffee Machine De-Scaler was created to help you remove the mineral deposits and coffee bean oils that build up in the heating chambers of your coffee machines. Over time, these residues will build up causing the drip and flow of your coffee to become blocked as well negatively impacting the flavor of your coffee. Save your machinery and your cups of coffee by cleaning regularly with this non-toxic formula.
Formula safe to use on food contact surfaces
Non-toxic and biodegradable formula
Septic safe
Concentrated
Additional Information
Simple Green Coffee Machine De-Scaler should be used inside the water reservoir of your coffee machine, but can also be used to clean any components that can be removed and soaked like the grinds holder and basket. Use this product to also safely wipe down the exterior surface of your machines for a clean finish.
Product Documentation