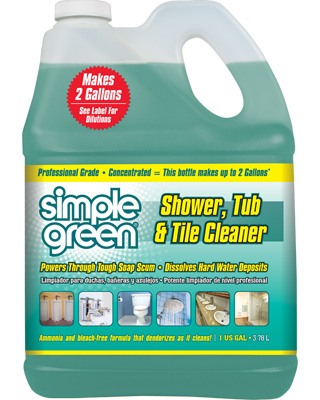 Simple Green® Professional Grade Shower, Tub & Tile Cleaner 3.78L
Simple Green Pro Grade Shower, Tub & Tile Cleaner is a dual-purpose cleaner that provides heavy-duty descaling and effective daily cleaning of bathroom and kitchen surfaces. The professional grade formula removes built-up lime scale, hard water scale and soap scum without stripping protective finishes or causing discoloration.
Non-abrasive formula won't strip protective finishes or cause discoloration or damage
Organic salt formula is bleach, ammonia and phosphate-free
Safe for a wide variety of bathroom surfaces and plumbing types
Formula deodorizes as it cleans without producing harsh or harmful chemical fumes
Additional Information
Safely clean acrylics, fiberglass, metals, plastics, PVC, porcelain, rubbers, tile and more. Effectively remove build-up and restore shine to stainless steel, copper and nickel without damage or harmful chemicals.
Ingredients
Water
Urea Monohydrochloride
Sodium Citrate
Alcohol Ethoxylate
Potassium Iodide
Fragrance
Colorant
Product Documentation