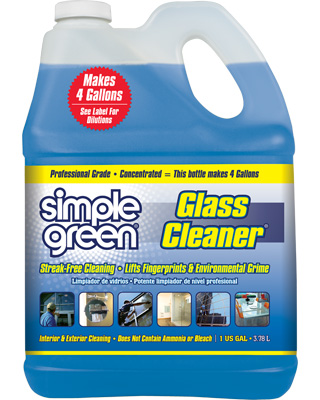 Simple Green® Professional Grade Glass Cleaner 3.78L
Simple Green Pro Grade Glass Cleaner is a non-toxic, biodegradable and professional grade formula that removes fingerprints, air pollution, smears and grime from both indoor and outdoor surfaces. The easy-to-use cleaner does not contain harmful ammonia or bleach, and leaves glass and reflective surfaces streak- and smudge-free.
Does not contain ammonia that can produce harsh fumes
Bleach free formula will not lighten or damage surrounding surfaces
Concentrated formula provides greater economy
Safe for tinted glass
Additional Information
This versatile cleaner can be used on acrylic, fiberglass, glass, plastic, porcelain and other reflective surfaces to wipe away dirt, dust, fingerprints and smudges. Ideal for use in high-traffic areas such as bathrooms and kitchens.
Ingredients
Water
Isopropanol
Diethylene Glycol Monobutyl Ether
Sodium Lauryl Sulfate
Fragrance
Colorant
Product Documentation