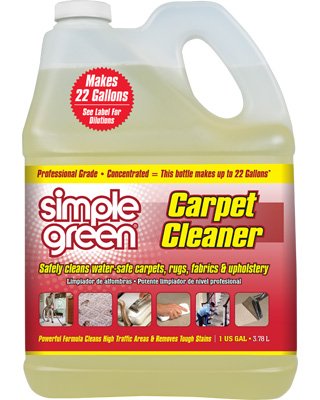 Simple Green® Professional Grade Carpet Cleaner 3.78L
This professional-strength formula deodorizes as it deep-cleans, safely removing tough stains including motor oil, grease, coffee, wine, chocolate, blood, lipstick, and more. Simple Green Pro Grade Carpet Cleaner's non-toxic and biodegradable formula brightens without bleach or other harsh chemicals.
Professional-strength cleaning and deodorizing
Tough on food and grease stains
Non-toxic and biodegradable formula
Phosphate-free
Won't degrade carpet fibers
Additional Information
This versatile cleaner pulls dirt, grime, oily soils, food messes and more out of carpet and fabrics. Use with pre-spray and extraction equipment or for manual spot- or small-area cleaning to deep clean high-traffic areas without leaving behind harsh or harmful chemicals.
Ingredients
Water
Proprietary Dispersant Polymer
Proprietary Acid Polymer
Isothiazolinone Preservative
Product Documentation