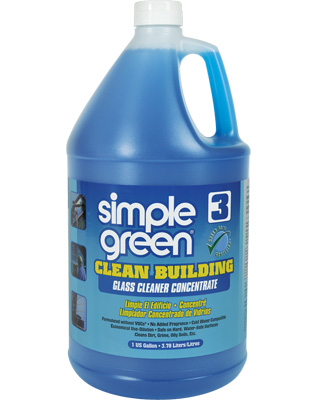 Simple Green Clean Building® Glass Cleaner Concentrate
Specifically for streak and smear-free cleaning of glass and other reflective surfaces, Simple Green Clean Building Glass Cleaner Concentrate offers economical use dilution, no added fragrance and formulated without volatile organic compounds that can adversely impact indoor air quality. Its bright blue color makes it easily identified when diluted into secondary containers. Also safe to use on plastics, it is a non-toxic, biodegradable, non-caustic, and non-flammable formulation.
Additional Information
This breakthrough product line was designed specifically for industrial/institutional use in schools, universities, government facilities, hotels, motels and other hospitality/lodging facilities, hospitals, clinics, nursing homes, day care centers, and any place where professional cleaning is required, but health and safety are of the utmost concern. The Simple Green Clean Building line of products has met all aspects of the Green Seal™ GS-37 Standard, including reduced health, safety, and environmental impact of formulations as well as product efficacy requirements. These products comply with the environmentally preferable product purchasing programs that are in place throughout federal, state, and municipal governments.
Ingredients
Water
C9 - C16 ethoxylated alcohol
Complexing agent
Colorant
Product Documentation