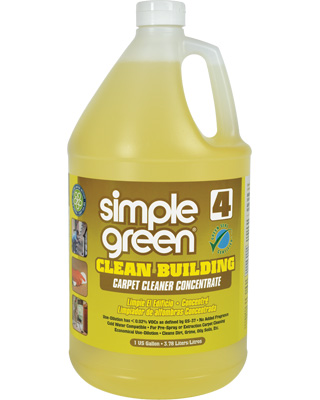 Simple Green Clean Building® Carpet Cleaner Concentrate
Formulated especially for cleaning carpets and rugs, Simple Green Clean Building Carpet Cleaner Concentrate is not only Green Seal™ certified, but is also certified by the Carpet and Rug Institute as being safe for use on carpets in pre-spray and extraction cleaning. Carpet warranties that call for the use of only CRI-approved products will not be jeopardized. Like all Simple Green Clean Building products, this is an economical concentrate with no added fragranced and formulated without volatile organic compounds, so it won't adversely impact indoor air quality. The Carpet Cleaner is a color-free product. It's also non-toxic, biodegradable, non-caustic, and non-flammable.
Additional Information
This breakthrough product line was designed specifically for industrial/institutional use in schools, universities, government facilities, hotels, motels and other hospitality/lodging facilities, hospitals, clinics, nursing homes, day care centers, and any place where professional cleaning is required, but health and safety are of the utmost concern. The Simple Green Clean Building line of products has met all aspects of the Green Seal™ GS-37 Standard, including reduced health, safety, and environmental impact of formulations as well as product efficacy requirements. These products comply with the environmentally preferable product purchasing programs that are in place throughout federal, state, and municipal governments.
Ingredients
Water
Anionic Polymer-Nonionic Amphoteric
Surfactant
Acid Polymer Proprietary
Isothiazolinone Preservative
Product Documentation