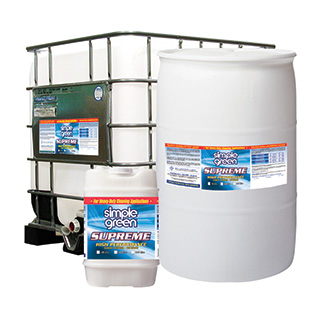 Simple Green® Supreme
Simple Green Supreme is the perfect cleaning agent for applications that require a high-performance degreaser. Made in Australia, Simple Green Supreme is non-toxic, non-flammable, non-corrosive, non-abrasive and readily biodegradable. It also features Quick Break and it contains no added colour or fragrance! A high-performance concentrate, Simple Green Supreme is designed to cut through tough, built up grease, dirt, tar, sap & pitch, pollution, insect residue, petroleum and vegetable oils, animal fats, and much more.
Additional Information
The combination of two high-performance surfactants with a new generation grease lifter/cutter quickly pulls soil away from the surface and keeps it away for clean rinsing. Simple Green Supreme also has Quick Break ability so that petroleum oils and greases become separated from the solution within a short period of time allowing them to be removed by oil/water separators. This enables more cost effective disposal methods. As Simple Green Supreme is a water-based product it makes this degreaser environmentally friendly and it will not contribute to smog pollution.
Ingredients
Water
Triethanolamine
Ethoxylated Alcohol
Quaternary Amine Mixture
Propylene Glycol Butyl Ether
Tetrapotassium Pyrophosphate
Sodium Disilicate