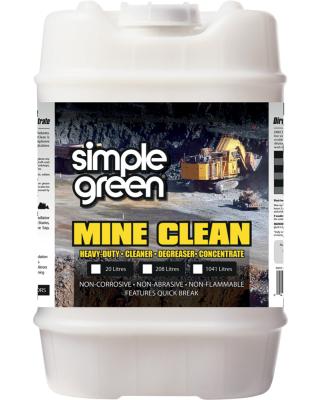 Simple Green® Mine Clean
Simple Green Mine Clean has been specifically formulated for the Mining Industry. Compared to commonly used solvents and chemicals, Simple Green Mine Clean is safer to use, both for equipment and employees. It is non-flammable, non-explosive and non-reactive. It is highly effective in heavy cleaning and degreasing applications and can be used on a wide variety of substrates and surfaces. Formulated to remove grease, oil, dirt, soil, brake dust, road grime, and much more from just about any washable surface found on the mine site. Use for maintenance and repair operations, on-road and off-road vehicle washdown, machinery, tools and equipment cleaning. General applications include: workshops, stairways, walls and floors, shut down cleaning, windows, site offices and buildings and much more.
Additional Information
Safe to use on bare and painted metals, stainless steel, aluminium, chrome, copper, brass, seals, rubber, canvas, carpets, drains, gaskets, glass, acrylic, plastics, and stone (natural & synthetic).
Simple Green Mine Clean combines two high-performance surfactants with a new generation grease lifter/cutter to quickly pull soil away from the surface and keep it away for clean rinsing. Mine Clean also has Quick Break ability so that petroleum oils and greases then break back out of solution to be removed by oil/water separators, enabling clean disposal.
Ingredients
Water
Triethanolamine
Ethoxylated Alcohol
Quaternary Amine Mixture
Propylene Glycol Butyl Ether
Tetrapotassium Pyrophosphate
Sodium Disilicate