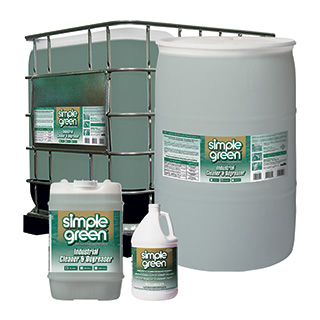 Simple Green® Industrial Cleaner & Degreaser
A powerful all-purpose cleaner and degreaser that provides a safer alternative to other cleaners, bleaches & solvents. The trusted formula is non-abrasive and non-caustic, and is recognized by the U.S. EPA's Safer Choice Program as safer for people and the environment. Designed to be used on washable surfaces, Simple Green can be used to remove heavy dirt, grease, food residue and stains from countertops, sinks, tile, carpet, flooring, upholstery and more. The cost-effective concentrate can be used manually or in cleaning equipment such as such as floor scrubbers, dip tanks, carpet extractors, pressure washers, parts washers, steam extractors and foamers. It easily cut through tough grease, oils, cutting fluids, built-up grime and residue on equipment, engines, machinery, vehicles and manufactured parts making it ideal for a wide range of industries including janitorial, manufacturing, MRO, food processing, mining, automotive, transportation and engineering.
Readily Biodegradable
Non-Ionic, Non-Flammable, Non-Abrasive
Exempt from OSHA & EPA special handling & personal protection requirements for hazardous materials
Economical Concentrate
Safer alternative to hazardous chemicals and solvents
Additional Information
Simple Green Industrial Cleaner & Degreaser is a highly versatile cleaner, degreaser & deodorizer that can be used manually or in cleaning equipment to cut through tough dirt, grease, oils & food residue on all water-safe surfaces. Use on counters, sinks, floors, equipment, engines, vehicles and more.
Available Sizes
710 Milliliters
3.78 Litres
9.46 Litres
20 Litres
208 Litres
1040 Litres
Ingredients
Water
Ethoxylated Alcohol
Sodium Citrate
Tetrasodium N,N - bis(carboxymethyl) - L - glutamate
Sodium Carbonate
Citric Acid
Fragrance
Colorant
Isothiazolinone Preservative