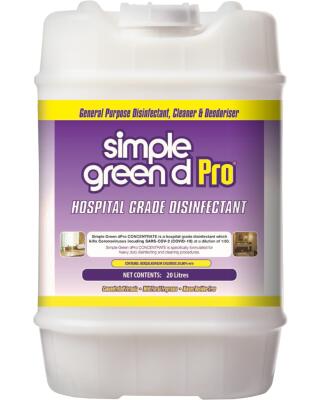 Simple Green® d Pro
Simple Green d Pro is specifically formulated for heavy-duty disinfecting and cleaning procedures. A multi-purpose product, it is also used for degreasing, sanitising and deodorising as it contains a mild floral fragrance. Simple Green d Pro is a concentrated formula which eliminates expensive storage and transport costs. Simple Green d Pro is a hospital grade disinfectant with an extensive germ kill claim including Escherichia coli, Staphylococcus aureus, Pseudomonas aeruginosa, Proteus vulgaris and Salmonella enterica.
Additional Information
To use as a Disinfectant/Cleaner dilute to 1:20
To use as a Sanitiser/Cleaner dilute to 1:75
First figure is concentrate, second is water.
Ingredients
Benzalkonium Chloride
Ingredients deemed not to be hazardous