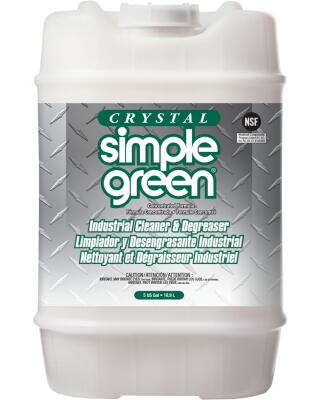 Crystal Simple Green® Industrial Cleaner & Degreaser
Crystal Simple Green is formulated for critical cleaning applications that demand a fragrance-free solution. It is a highly effective, concentrated, all-purpose degreaser and cleaner. Because Crystal Simple Green is fragrance-free, color-free and has high rinsibility, it is an ideal and effective degreaser/cleaner for use in many industries.
Additional Information
Crystal Simple Green Industrial Cleaner & Degreaser is a highly versatile cleaning and degreasing with no added color or scent. Can be used full-strength or in various dilutions on water-safe surfaces, including metal, concrete, rubber, synthetic and plastic. NSF registered for use in food facilities.
Ingredients
Water
Ethoxylated Alcohol
Sodium Citrate
Tetrasodium N,N-bis(carboxymethyl)-L-glutamate
Sodium Carbonate
Citric Acid