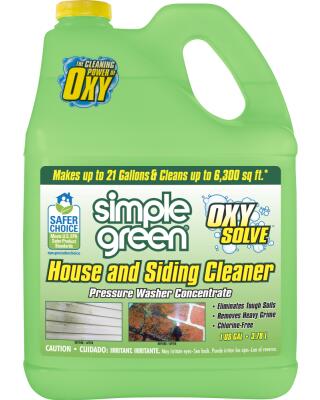 Simple Green® Oxy Solve House and Siding Cleaner
Simple Green Oxy Solve House and Siding Cleaner removes dirt, pollution and stains from mold, mildew, moss and algae. The pressure washer concentrate is ideal for cleaning vinyl, aluminum, stucco, wood, brick and other types of siding. The fast-acting foam cleans using the power of peroxide. The safer, non-toxic and biodegradable formula meets the rigorous criteria of the U.S. EPA's Safer Choice Program and will not harm surrounding plants, lawns, pets or wildlife. Brighten and renew surfaces without harmful bleach while removing black streaks and lifting tree sap, ash and soot off of siding and trim.
Cleans house siding including vinyl, aluminum, stucco, wood and brick
Removes stains and discoloring from algae, moss and mildew
Uses the power of peroxide to lift grime without harsh chemicals
Safer, orally non-toxic formula
Pressure washer concentrate cleans up to 6,400 sq. ft.
Ingredients
Water
Ethoxylated alcohols
Hydrogen peroxide solution
Tretrasodium N,N-bis(carboxymethyl)-L-glutamate
Citric acid
Etidronic acid