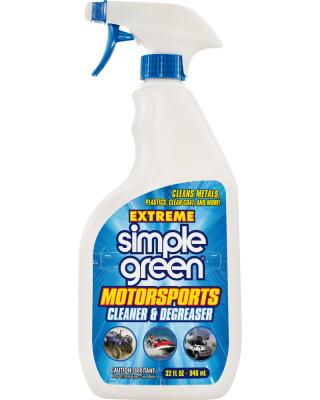 Extreme Simple Green® Motorsports Cleaner & Degreaser 946mL
This cleaning and degreasing product is extremely aggressive on grease and heavy soils, but won't harm the high-performance surfaces found on motorsports equipment. The safer clean for motorcycles, ATVs, sports cars, RVs, watercraft, bicycles, aftermarket parts, equipment and more.
Strong cleaning and degreasing power
Won't harm high-end surfaces
Great for motorsports equipment, boats, cycling equipment and other equipment
Readily biodegradable formula
Additional Information
Ideal for use on aluminum, chrome, titanium and other high-tech alloys, painted and gel-coated surfaces, anodized and electroplated parts, carbon fiber, a variety of metals, plastics, rubber and much more. It is effective for use on interior and exterior surfaces, automotive and marine-grade carpet, precision parts degreasing and the list goes on. From auto repair to restoration and rebuild shops, precision fabrication, metalworking and machining, Extreme Simple Green Motorsports Cleaner & Degreaser is economical, versatile and effective.
Ingredients
Water
Triethanolamine
Alcohol Ethoxylate
Propylene Glycol n-Butyl Ether
Tetrapotassium Pyrophosphate
Potassium Silicate