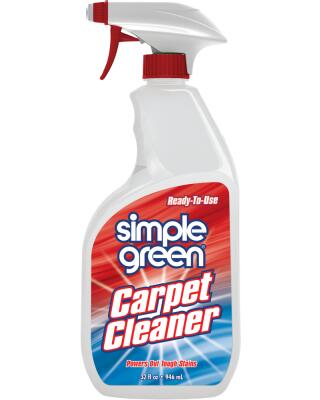 Simple Green® Carpet Cleaner 946mL
A powerful, yet safer solution for spot cleaning carpets, rugs, fabrics and upholstery. The non-toxic and biodegradable formula does not contain dyes, perfumes or bleach. It uses the natural power of peroxide to quickly and easily break down soils, removing spots and stains at the source. The easy-to-use spot remover quickly eliminates stains, spots and odors without harsh chemicals.
Non-toxic and biodegradable formula
Free of dyes and perfumes
Fast-acting spot cleaner keeps carpets and fabrics looking new
Great on fabric and upholstery
Does not contain bleach
Additional Information
Always test first on a hidden area of carpet or fabrics for color fastness. Remove excess soils. Spray Simple Green Carpet Cleaner to cover soiled area. Allow 2 minutes of contact. Wipe & blot up with a clean, white towel, cloth, or paper towel. Repeat if necessary. Allow cleaned areas to dry before resuming use or traffic.
Ingredients
Water
Hydrogen Peroxide
Alcohol Ethoxylate
Fragrance