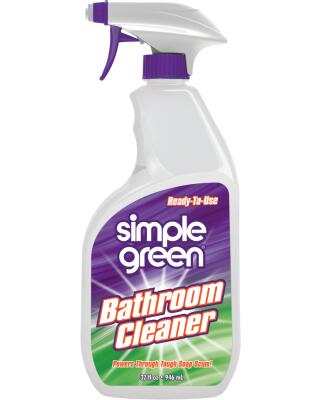 Simple Green® Bathroom Cleaner 946mL
Simple Green Bathroom Cleaner is specially formulated to effectively dissolve and remove lime scale, soap scum, and water mineral deposits from: sinks, toilets, tubs, ceramic tile, shower and faucet fixtures, glass shower doors, chrome and stainless steel. The formula is non-abrasive, non-flammable, deodorizes as it cleans and is bleach-free, ammonia-free and phosphate-free.
Bleach, ammonia and phosphate free cleaner
Removes dirt, lime scale and soap scum
Safe for use on porcelain, tile, glass, stainless steel, chrome and more
Streak-free formula
Additional Information
Always spot test on a hidden area first. Spray surface or apply with a damp sponge to cover soiled area. Scrub around fixtures with stiff brush or scrubbing pad to loosen heavy deposit build-up. Immediately rinse thoroughly with clean, ambient water for shiny, clean results. Repeat if necessary.
Ingredients
Water
Urea Monohydrochloride
Sodium Citrate
Alcohol Ethoxylate
Potassium Iodide
Fragrance