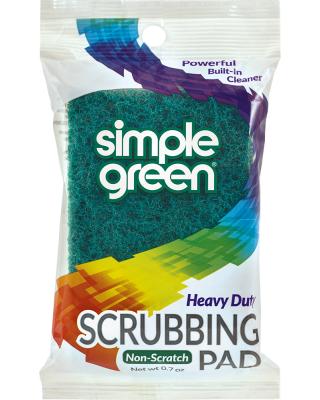 Simple Green® 1 Single Sachet Scrubbing Pad
Simple Green Scrubbing Pads are an invaluable tool for cleaning and degreasing, providing the power of Simple Green All-Purpose Cleaner in the convenience of a multi-use, non-scratch cleaning pad. Simply add water and squeeze to activate the heavy-duty, all-purpose cleaning solution. Simple Green Scrubbing Pads cut through dirt, grease, oil, mud, wet paint, brake dust, food spills and other tough grime on all washable surfaces.
Provides the all-purpose cleaning and degreasing power of Simple Green All-Purpose Cleaner and Degreaser
Uses a safer, non-hazardous and non-corrosive cleaner that won't damage surfaces or irritate skin
Non-scratch cleaning pad won't damage delicate surfaces like stone, sealed wood, carpet, fabric or painted surfaces
Perfect for cleaning sinks, counters, tables, walls, floors, carpet, appliance exteriors and other frequently used surfaces
Quickly removes dirt, oil, grease, food stains and more
Additional Information
The non-hazardous cleaning solution is safer than common harsh chemicals which can damage surfaces and irritate skin. The non-abrasive pads can be used on delicate surfaces including tile, stone, granite, porcelain, painted surfaces, sealed wood and fiberglass. They can also be used to remove stains from carpet, clothing, upholstery and other fabrics. The non-corrosive solution is ideal for cleaning vehicles, machinery, tools and equipment. Pads are made from 100% recycled polyester.
Ingredients
Water
Sodium Lauryl Sulfate
Cocamide MEA
C9 - 11 Alcohols Ethoxylated
Sodium Citrate
Fragrance
Sodium Carbonate
Tetrasodiu glutamate diacetate
Citric Acid
Methylchloroisothiazolinone
Sodium Hydroxide
Methylisothiazolinone